THC-212CV 2x12" Guitar Column Set + SH2 Classic Guitar Amplifier.
Very sturdy and reliable 125 Watt guitar cabinet with 2x12'' speaker included with Stomp Head 60 Watt High Gain analog guitar amplifier (12AX7 tube).
In a set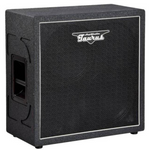 KEY FEATURES
Celestion G12M-65 Creamback + Vintage-30 speakers
high efficiency
reliability
durability
FULL DESCRIPTION
The cabinet is covered with a hybrid polyurethane coating. The coating is extremely resistant to any kind of mechanical damage which may occur during transportation as well as protects the cabinet against moisture. It is also very easy to clean. An additional advantage of the coating with the polyurethane elastomer is a sealing and reinforcement of the entire cabinet's structure, as well as increases the overall cabinet's lifespan.
---

MANUFACTURER


Taurus products are designed and hand-made in Poland. Adam Kozakiewicz, the founder of Taurus Amplification, musician, sound engineer, and electronics engineer, has been providing the market with the best and fully professional music equipment for 35 years. Manual processing and control, guarantee the best quality and satisfaction.